But for many, getting online regularly remains out of reach
August 17, 2017
Cuba is a country that continues to spark mystery and intrigue, thanks to a rocky relationship with the US and its status as one of the world's few remaining communist states. Although it's been more than 55 years since the enactment of the US embargo against Cuba, the mere mention of its name still evokes—for many—images of a land stuck in the 1960s.
eMarketer estimates that there will be 360.4 million internet users in Latin America in 2017. Although we do not break out specific metrics for Cuba, the latest figures from the government's National Office of Statistics and Information (ONEI) show that over 4.5 million people, or roughly 40.3% of the total population, accessed the internet at least once during 2016.
But the number of people with internet access in their homes was significantly lower: The BBC reported in March of last year that the at-home internet penetration rate was roughly 5%.
Web access in the country remains relegated to a few options. State-run telecom Empresa de Telecomunicaciones de Cuba S.A. (ETECSA), which first began offering public Wi-Fi spots in 2015, claims to provide 391 such spots across the country. But at a cost of about $1.50 per hour, access remains too expensive for most Cubans, and internet speeds are reportedly excruciatingly slow.
ETECSA also began a pilot program in December of last year to provide some 2,000 users in Havana, Cuba's capital, with fixed broadband internet access for a free two-month trial period. In March, ETECSA said 358 participants in the program signed up to pay for the service, which offered data speeds of between 128 kilobits per second (Kbps) and 2 megabits per second (Mbps).
And when residents of the country do manage to get online, they are subject to strict internet censorship overseen by the government. Some websites and services are blocked, and communications can easily be monitored by government figures.
During parliamentary sessions held in July, Vice President Miguel Díaz-Canel acknowledged that Cuba has one of the lowest internet access rates, but rejected the notion that its society was "fully disconnected."
He added that tech companies that had entered into agreements with the country's government to provide them with the infrastructure necessary to expand internet access had been met with "fierce financial prosecution."
Despite these claims, the government has sought out partnerships with some of the world's leading tech companies. In April, Google brought servers in the country online for the first time, making it the first foreign tech firm to host its own content in Cuba.
At the parliamentary sessions, Díaz-Canel also claimed that the penetration of social media platforms had grown by 346% in 2016. (The government did not respond to eMarketer's request to verify this figure.)
However, Martín Utreras, vice president of forecasting at eMarketer, noted that the majority of social media users in the country were most likely foreign tourists looking to stay connected while on vacation.
According to data from StatCounter, there are signs that Facebook is a leading social media platform in the country. Facebook was responsible for 83.3% of page views resulting from social network referrals in Cuba in July, more than either Pinterest (8.4%) or Twitter (4.3%). (StatCounter's figures take into consideration website referral traffic from both locals and visitors in Cuba.)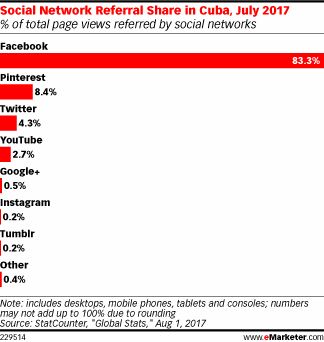 Despite signs that internet access is increasing in the country, Cuba still has a long way to go before getting online is something residents consider normal. In fact, many in the country rely on "el paquete semanal," or the weekly package—a hard drive that is loaded with contraband content such as news, music, TV shows and other videos and passed from person to person.
"Cuba's journey resembles that of similar trends we've seen in the case of China or Vietnam," Utreras said. "Although Cuba is still many years behind in terms of private telecom investment, infrastructure development and overall internet adoption, by comparison, the immediate future will most likely be driven by government interests rather than the market itself."
—Matteo Ceurvels