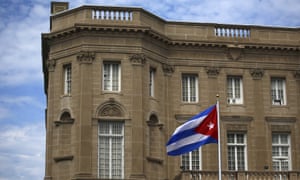 The new Cuban embassy in Washington will have fewer occupants. The reduction aims to 'ensure equity in the impact of our respective operations'. Photograph: Carlos Barria/Reuters
The US has ordered 15 Cuban embassy officials to leave the country as result of a string of mysterious health incidents affecting 22 of its diplomats in Havana, which Washington says were the result of deliberate attacks.
The US also said that the move was designed to achieve parity in each country's embassy functions, after Washington announced the withdrawal on Friday of non-emergency personnel – more than half its diplomats in Havana, as well as all family members. Those US nationals are still in the process of leaving Cuba, while the 15 Cuban embassy staff are being given a week to leave.
"The decision was made due to Cuba's failure to take appropriate steps to protect our diplomats in accordance with its obligations under the Vienna Convention," the secretary of state, Rex Tillerson, said in a written statement. "This order will ensure equity in our respective diplomatic operations
A state department official said that the move did not signal a change of policy towards Cuba. "We are maintaining diplomatic relations with Havana.," the official said.
Cuba has denied responsibility for any attacks, and has launched an investigation. The state department said the US was cooperating with that investigation while conducting its own. Officials have said there was still no evidence of the source of the attack. Speculation has included the possibility of some form of sonic weapon and a surveillance operation that went wrong.
US officials said they were confident that the incidents did represent targeted attacks, pointing out that some of the affected diplomats had been staying in a hotel, where none of the hotel workers seem to have been affected. The Associated Press reported over the weekend that US intelligence officials were among the first to be affected. The incidents began late last year with the last being recorded in August.
The state department said 22 of its personnel had been affected, an increase of one since Friday. An official said that the new victim had experienced health problems in January but only now has a determination been made that they were connected to the other health incidents.
"We have underscored repeatedly to the Cuban government its responsibility for the safety, wellbeing, security and protection of our diplomatic staff under the Vienna Convention in Havana," the state department official said. "We will need full reassurances from the Cuban government these attacks will not continue before we even contemplate returning personnel."
The moves deliver a significant blow to the rapprochement between the Washington and Havana that was launched by Barack Obama and Cuba's president Raúl Castro in 2015.
Geoff Thale at the Washington Office of Latin America (Wola), a human rights thinktank, said that there was "no logic" to the decision to expel the Cuban officials.
"The United States is using the confusion and uncertainty surrounding these events as justification to take a big step backwards in US-Cuban relations," he said. "This doesn't serve our national interests, or our diplomacy, and it most certainly doesn't do anything to help advance human rights or a more open political climate in Cuba."